Pet Healthcare at an affordable monthly price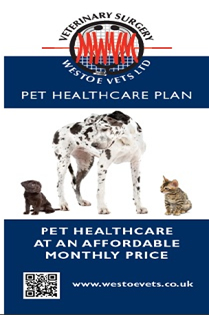 At Westoe Vets we want to make preventative health care easy and affordable to help you give your pets the best care possible. We believe that prevention is better than cure, rather than waiting until a pet is ill and suffering to put things right. Early diagnosis of health problems will help your pet to live a long and healthy life.
A pet healthcare plan is not pet insurance. It covers the essential treatments your pet needs throughout life, such as vaccinations, flea and worm treatments and regular health checks. Extra benefits of the plan include discounts on many other products and services at the practice.
Read on for more information, or speak to one of our team today to find out more about our plan. (Click on the image if you would like to download a copy of the leaflet)
The Westoe Vets Healthcare Plan provides your pet with
Annual Health Check and Booster
Six month Health Check
Flea treatment (sufficient for 12 months)
Worming treatments (sufficient for 12 months)
10% discount on:
Neutering
Diets
Dental work
Consultations
In-house blood tests
Surgery
PETS passport Scheme
Additional worming (ie lungworm)
Additional parasite control (ie tick prevention on dogs if required)
Long-term medications
Additional benefits
Exclusive seasonal offers and promotions
Free Nurse Appointments
Personalised and printed Treatment Planner for your pet
Low cost Accidental Injury Cover Option (see below)
Payment Scheme to spread cost of larger invoices (see below)
PLEASE NOTE: the discount is available to clients for the stated procedures undertaken exclusively at our practice and at no other clinics. Private cremations, out-of-hours consultations and referrals are not eligible for the discount.
Vaccinations for dogs
Distemper
Parvovirus
Leptospirosis
Hepatitis
Parainfluenza
Coronavirus
Vaccinations that are not included but are discounted by 20% – Kennel cough (intranasal) and Rabies
Vaccinations for Cats
Vaccinations not included but discounted by 20% – Rabies
Vaccinations for Rabbits
Myxomatosis
Rabbit Haemorrhagic Disease
Accidental Injury Cover
Unfortunately, things in life sometimes happen when we least expect them – pets can have an accident leaving you facing an unexepected veterinary bill. For only £2.75 per pet per month, you can include Accidental Injury Cover. This provides cover for the cost of treating accidental injuries up to £2500 per incident, subject to an excess of £75. Examples of accidental traumas may be a fractured leg following a collision with a car or ingestion of a poison or foreign body. Total claims in any 12 month period may not exceed £5000. The cover is for treatment by our practice, however, in an emergency cover is extended to any UK veterinary practice. Terms and Conditions apply – please enquire at the practice for more information.
Extended Payment Scheme
For any treatment over £400, pet owners may have the facility to spread the payment over 4 months. Please note no discount is available if the Extended Payment Scheme is utilised. A deposit will be required. Use of the Extended Payment Scheme is at the discretion of the Practice Manager/Principal and subject to Terms and Conditions.
Opening Hours
Surgery opening hours 8.30am to 6pm (Monday to Friday).
Monday to Friday Consultation: (by appointment only)
9.15am to 10.30am
2pm to 3pm
4.30pm to 6pm.
Saturday Consultation: (by appointment only)
9am to 12pm.
Westoe Vets Limited subscribe to Vets Now Emergency Limited so that in an emergency you will always be able to access advice or any urgent treatment your pet may require when our surgery is closed.
Telephone: 0191 469 6926
Visit: www.vets-now.com