Each year 1 in 3 pets is injured or becomes ill* and needs urgent veterinary treatment. Insurance can help you cover the cost of these unexpected bills leaving you free to concentrate on helping an important member of your family recover.
Westoe Vets Limited recommend having your pet insured and are accredited as an Introducer Appointed Representative of Vetsure Pet Insurance ®. Through working relationships with the veterinary profession Vetsure aims to offer the best value for money premiums and access to the highest standards of treatment through their network of trusted practices.
We promote Vetsure Pet Insurance® because… Vetsure make it simple: We are part of the trusted Vetsure network. This means that Vetsure are happy for us to settle the bill directly with them when you make an eligible claim. After treatment you simply pay us the policy excess.
Vetsure cover for life: If your pet develops an ongoing condition like arthritis or diabetes, the vet treatment benefits offered will recharge every year for each condition**.
Vetsure also only charge the excess once per unrelated condition – many insurers charge the excess every year – which can soon make costs add up. Vetsure offer generous vet fee limits:
Vetsure policies offer you the choice of two levels of benefit limits for vet treatments. These limits apply to each unrelated condition – so you can make claims against an unlimited number of different eligible conditions.
For more information about Vetsure Pet Insurance – or a quote – visit the Vetsure website or call 0844 879 7061. Alternatively, ask a clinic staff member to arrange a call from the Vetsure team at your convenience!
*source: Datamonitor – UK Pet Insurance 2008.
**provided your premiums are kept up to date and your policy remains in place.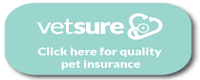 Opening Hours
Surgery opening hours 8.30am to 6pm (Monday to Friday).
Monday to Friday Consultation: (by appointment only)
9.15am to 10.30am
2pm to 3pm
4.30pm to 6pm.
Saturday Consultation: (by appointment only)
9am to 12pm.
Westoe Vets Limited subscribe to Vets Now Emergency Limited so that in an emergency you will always be able to access advice or any urgent treatment your pet may require when our surgery is closed.
Telephone: 0191 469 6926
Visit: www.vets-now.com